In today's digital age, having a blog is an excellent way to share your thoughts, ideas, and opinions with a wide audience. However, with so many blogs out there, it can be challenging to make your blog stand out from the crowd. This is where Search Engine Optimization (SEO) comes in. By optimizing your blog for search engines, you can improve your website's visibility and attract more traffic to your content. If you're using Blogspot as your blogging platform, this article will guide you through the best SEO settings for Blogspot, helping you to achieve higher search engine rankings and reach a wider audience.
In this blog post, you will learn blogger SEO settings basic to advance that help you to boost your blog rank in search engines.
So if you are using blogger.com, this post helps you to do all the SEO settings that you must do if you want to rank your blog on Google or any search engine.
Also, if you just started a blog on Blogger then read this post till the end. You will learn every blogger SEO setting that you need to do if you want to rank your blog on SERP.
So let's straight to the topic,
Blogger Basic SEO Settings
Blog Title And Description
Blog title and description will tell readers about your blog like what they found on your blog and what you are writing on your blog.
Blog Title: Write a blog title under 60 words it's great in terms of SEO (Your Blog Title + Tagline)
How To Write Blog Title
Login To Your Blogger Dashboard and Go to Settings Section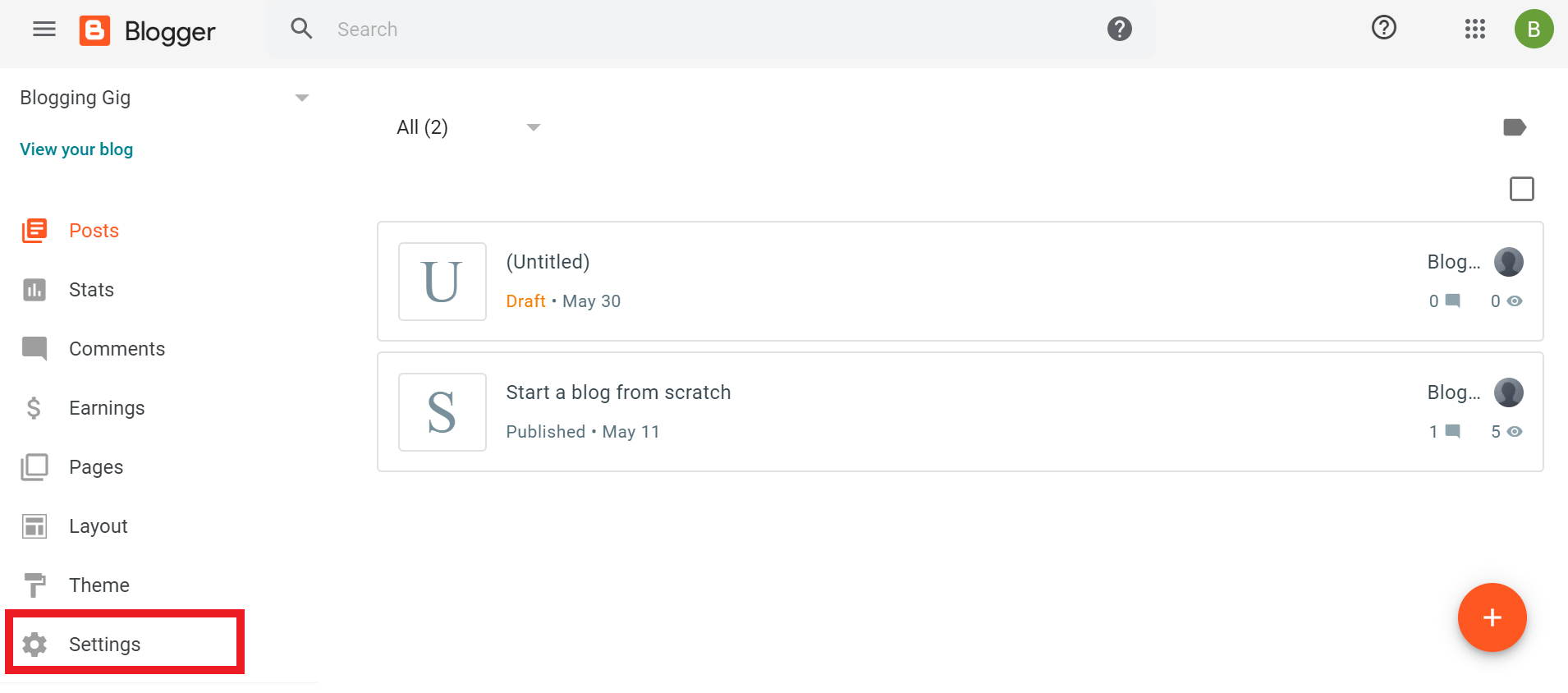 ​
Here First Option is the title click on that.
Write your blog title here and click on the Save button
Now we're done with the blog title. Let's move forward and write the blog description.
Blog Description: A blog description is a sneak peek of your blog, which gives an idea to readers about your blog. If you don't know how to write the best blog description then must read How to Write the Best eye-catchy blog description
How to Write blog Description
After Writing the Title You will see an option just below the title to write a description
Write Your Blog Description Here. Write a Blog Description Under 160 Words.
That's for the blog title and description.
HTTPS Redirection
HTTPS is good for your blog security if you disable HTTP redirection then readers see a msg (Not Secure) just before your URL.
It affects the ranking of your blog, and also people always want to use a secure blog if your blog is not secure most of the visitors back out of your blog.
So, Always enable https redirection on your blog.
Enable Meta Description
This is the hidden description of your blog (only search engine crawlers see this description) that helps search engine crawlers to understand your blog.
So, Enable it otherwise google or other search engines never know about your blog.
How to enable meta description
You will get a meta tags option in the Setting section of Blogger.
Write your meta description here.
Enable Custom Robots.txt
Robots.txt is a text file in which you can write which directories, web pages, or links should not be included in search results. You can restrict search engine bots to crawling links or directories that you don't want to show on search engines.
How to enable custom robots.txt
Go to the setting section here you will get the crawler and indexing option
Click on enable button here
Now fill the below file in the custom robots.txt section.
User-agent: Mediapartners-Google
Disallow:
User-agent: *
Disallow: /search
Allow: /
Note: Write the Custom Robots.txt file carefully if you do it wrong your blog will not index in search engine
Enable custom robots header tags
Here you can choose the indexing format of the homepage, Search Pages, posts, and Pages.
Blogger Custom robots header tags settings
Tags setting for the homepage
Tags setting for archive and search pages
Tags setting for posts and pages
Search Engine Visibility
After doing the above setting, make sure your blog is visible on search engines.
How to enable search engine visibility
Go to the setting section in the blogger dashboard
Now scroll down and go to the Privacy section and enable search engine visibility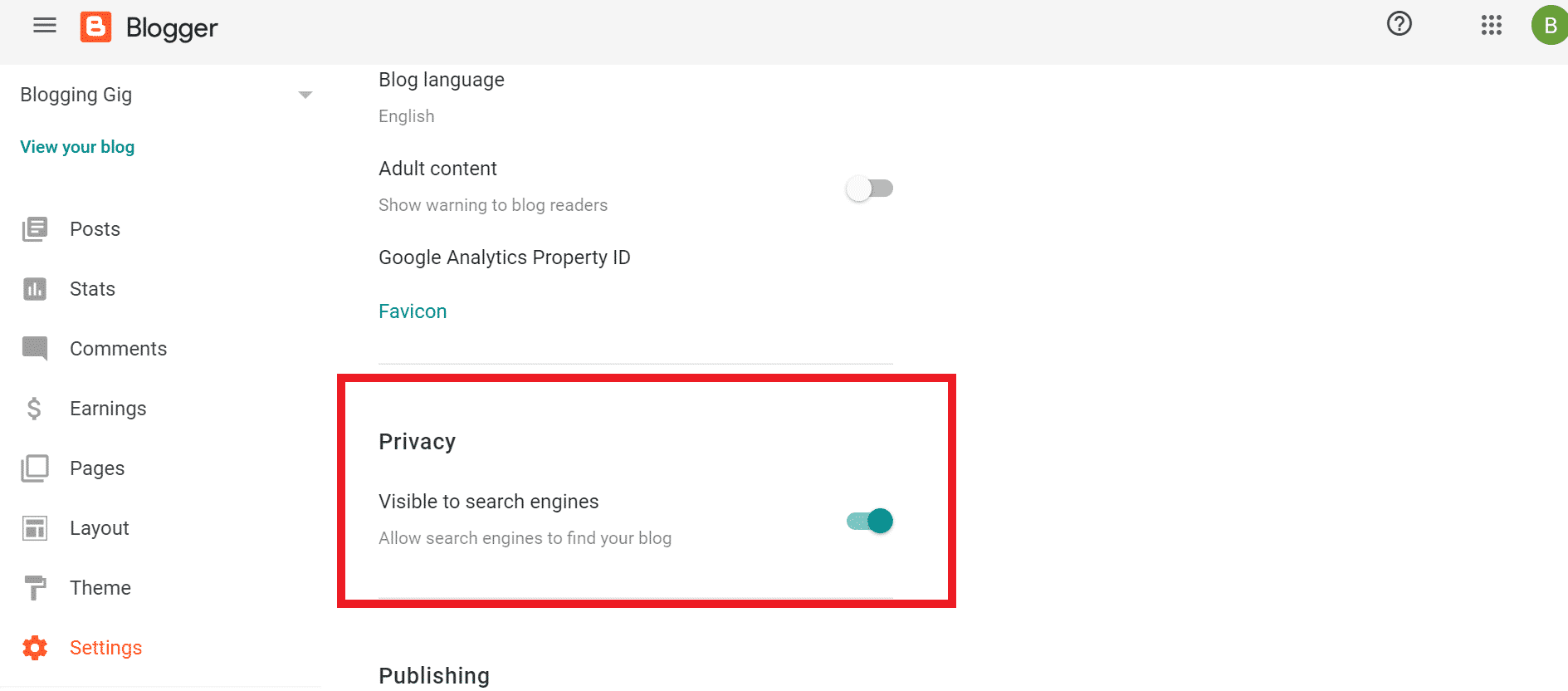 Now we have done the basic SEO setting of Blogspot. Before moving forward, make sure you have done all the above settings.
Let's start with the blogger's advanced SEO setting.
Blogger Advance SEO Settings
After completing the Basic settings of Blogspot, it's time to do some advanced SEO settings that boost your blog ranking in Google or any other search engine.
Add Custom Domain Name
When you start a blog on blogger.com, you will get your domain with the blogger.com subdomain name (ex. yourblog.blogger.com), but it's not SEO friendly and also does not looks professional.
So I will suggest you get your custom domain. It's good for branding and also for SEO.
How to add a custom domain in Blogspot
Login to blogger.com dashboard
Go to the setting section and here you will find a custom domain option click on that
Enter your domain name here and click on the save button
Now you see a msg to verify your domain name.
To verify your domain log in to your domain registrar account and go to the DNS section.
Here add the Cname provided by the blogger.
Now click on the Save button
Again come to blogger and click on the save button
Your custom domain will be connected with blogger.com within 1-2 hours
Submit the Site In the Search Console
To index your blog in search engines, you need to submit your blog to the search console. Here I will show you how to submit a site in the Google search console
Steps to submit site in Google search console
Go to the search console and log in with your Gmail account
Enter your blog URL here and click on submit button
Here you will get the HTML code that you need to paste on your blog. Copy that code.
To paste that code on your blog login to the blogger.com dashboard and go to the theme section
Here click on three dots.
Here paste that code just after <head>
Now go to the search console and click on the verify button.
Submit Sitemap to Search Console
The sitemap is a file where the website files data mentioned, and Google and other search engines crawl the sitemap to get information about your website post, pages, and other data.
Steps to submit the sitemap
Click on the sitemap option.
Here enter your sitemap and click on submit.
Now your sitemap submitted successfully
Permalink Setup
Permalink is the URL of your blog post and pages. The default permalink of the blogger is very long, and it's not right in terms of SEO. So we need to set up a short and SEO-friendly permalink.
Steps to setup permalink
Go to Post Section
Here click on the plus icon in the right-down corner
When you write the post, you will get a permalink option on the right side
Here you need to choose a custom permalink option and enter the permalink that you want.
Index Blog Post Fast
The indexing blog post is an essential part. If you publish a post and leave it, then it will take a while to index your blog post in the search engine. So manual indexing is the best way to index your blog post immediately after publishing.
How to do manual indexing
Now paste here the link that you want to index and press enter.
Now click on request indexing.
Now your request to index that URL is submitted, and your URL will be indexed in only 2-4 minutes only
Internal linking
Internal linking is the practice of creating hyperlinks within your website that point to other pages within your website. These links allow users to navigate between pages on your website and also provide search engines with information about the structure and hierarchy of your website.
Internal linking can help improve the user experience on your website, by allowing users to easily find related content that they may be interested in. It can also help with search engine optimization (SEO), by distributing link equity across your website and helping search engines understand the relationships between different pages on your website.
When creating internal links, it's important to use relevant, descriptive anchor text that accurately describes the content of the page that the link points to. This helps users understand what they will find if they click on the link, and also helps search engines understand the context and relevance of the linked page.
Mobile responsiveness
Mobile responsiveness for Blogspot refers to the design and functionality of a Blogspot website when viewed on a mobile device, such as a smartphone or tablet. A mobile-responsive Blogspot website is one that is designed to adapt and adjust to the smaller screen size and touch-based navigation of mobile devices, providing a seamless and user-friendly experience for mobile users.
To ensure that your Blogspot website is mobile-responsive, you should choose a mobile-responsive template or theme, which will automatically adjust the layout and design of your website to fit different screen sizes. You should also test your website on different mobile devices to ensure that it is easy to navigate and that all the content is visible and accessible.
Having a mobile-responsive Blogspot website is important for several reasons. First, it provides a better user experience for mobile users, who make up an increasing percentage of website visitors. Second, search engines like Google consider mobile responsiveness as a ranking factor, so having a mobile-responsive website can help improve your search engine rankings and visibility.
Bonus SEO Tips You Should Follow
Never Copy Other blogger's content
Write Catchy Titles And Description
Never Overload Your Tags, Labels
Use Word In Your Titles ex, Top 10. Top 5
Use Images With Proper Alt Tag & Videos In Your Post
Use H1 H2 H3 H4 In Post
Create Important Pages – About me, Contact us. Privacy policy,
Use Simple Template To Understand Your Website To Crawler
FAQ – Blogger SEO Settings
Is Blogger Completely Free?
Yes blogger.com is an entirely free platform to start a blog, But you can't get a free custom domain with blogger.com they just give you a domain with their subdomain (ex. yourdomain.blogger.com)
Is Blogger still popular?
Yes, blogger.com is a top-rated platform, and still, many bloggers are using blogger.com to build successful blogs. Also, most of the newbies are starting with blogger.com because it's a free platform.
Is Blogger SEO-friendly?
Of course, blogger.com is SEO-friendly. It's a product of Google so no doubt it is entirely SEO friendly and many successful blogs run on bloggers.
Is Backlinks Good For SEO?
Backlinks are an essential part of SEO. If you want to rank on SERP, then you have to make backlinks. There are many types of backlinks. Some of the Backlinks are good, and Some are bad. It depends on which type of backlinks you are making.
Now It's Your Turn
This article discusses the best SEO settings for Blogspot to improve your website's visibility and search engine rankings. Some of the key settings include using a custom domain, conducting keyword research, optimizing title tags and meta descriptions, using headings and internal linking, optimizing images, ensuring mobile responsiveness, and submitting your sitemap to Google Search Console. By implementing these best practices, Blogspot bloggers can improve their website's SEO and attract more traffic to their content.
If you still have any questions, ask me in the comment section also If you find this article help me let me know in the comment section.
Now you need to do one thing: share this article on your social media and help every newbie who wants to start blogging and wants to learn about blogger SEO settings.