Are you looking for the best blogging platforms and sites to start your blog?
But can't find out the best platform for your blog. Yes, it's quite difficult because of a lot of blogging sites and platforms.
So, How to choose the best blogging platform for you?
In this article, I put thirteen blogging platforms & sites together and I talked about those platforms in detail. I shared their pros, and cons, whether are they value for money, are useful, whether can you make money with them and I am sure these things help you to pick the best platforms and sites for you.
In the last, I will share my top picks for different types of blogs and websites.
Are you excited? Let's get started,
How to choose the best blogging platform
Before starting a blog on any platform you should check a few things on that site or platform. Because as a beginner where you don't know anything about these platforms every platform is good but these points will help you to choose the best platforms for you.
Value for money – Check the cost of making a website on that platform because every time it's not possible that the platform is within your budget also sometimes maybe you don't even need a paid plan the features that you need will get in a free platform.
Ease of use – As a beginner when you start a blog you need a platform that is easy to use. Because it saves your time and you can easily start your blog on those platforms that are specially made for beginners.
Features – This is one of the most important things that you need to check before choosing any blogging platform for your site. You need to confirm that the platform that you are going to use is proving all features that you need in your website.
Rules & Restrictions – You need to make sure that the platform that you choose allows creating a website or blog that you want to create because some platform doesn't allow some particular type of content so make sure your content comes under their terms and policies.
Best Blogging Platforms
Here I shared 10+ Blogging platforms to start a blog. Some of these are free and for some your need to pay. But right now these are the best platform to set up a blog from scratch.
WordPress.org
WordPress.org is the most popular open-source blogging platform. 90 percent of blogs on the internet are using the WordPress blogging platform.
It is a self-hosted blogging solution which means that you will need to sign up with a WordPress hosting provider. WordPress is a great option if you want to have full control over your blog's future.
Pros
WordPress.org gives you control over every aspect of your website.
You can expand your blog in the future by adding features like an online store, Forum, Membership, etc. and this is the best way to make more money from your blog.
WordPress has a lot of free themes that help you design your blog in the way you want and by designing your blog you can stand out from the crowd.
WordPress also has plugins that allow you to add features like contact forms, custom menus, etc. to your blog.
WordPress is search engine friendly. You can easily create SEO-friendly URLs, categories, and tags for your posts and pages. Also, there're a good number of great SEO plugins for additional features to improve SEO.
Cons
You need to get your domain and hosting
Pricing
WordPress.org is a 100 percent free platform to start a blog but you need to pay for your domain and hosting.
You need a domain and hosting to start any type of website. Where a domain is the name or address of your website over the internet and hosting is the server space where all your website data will be stored.
Usually, a domain cost you $10-15 per year, and hosting costs you around $7.99/per month.
Lit Blogging users can get started for only $2.75 per month with HostGator, an official WordPress-recommended hosting provider. They are offering our users up to 60% off on web hosting and a FREE domain name for one year. 
WordPress.com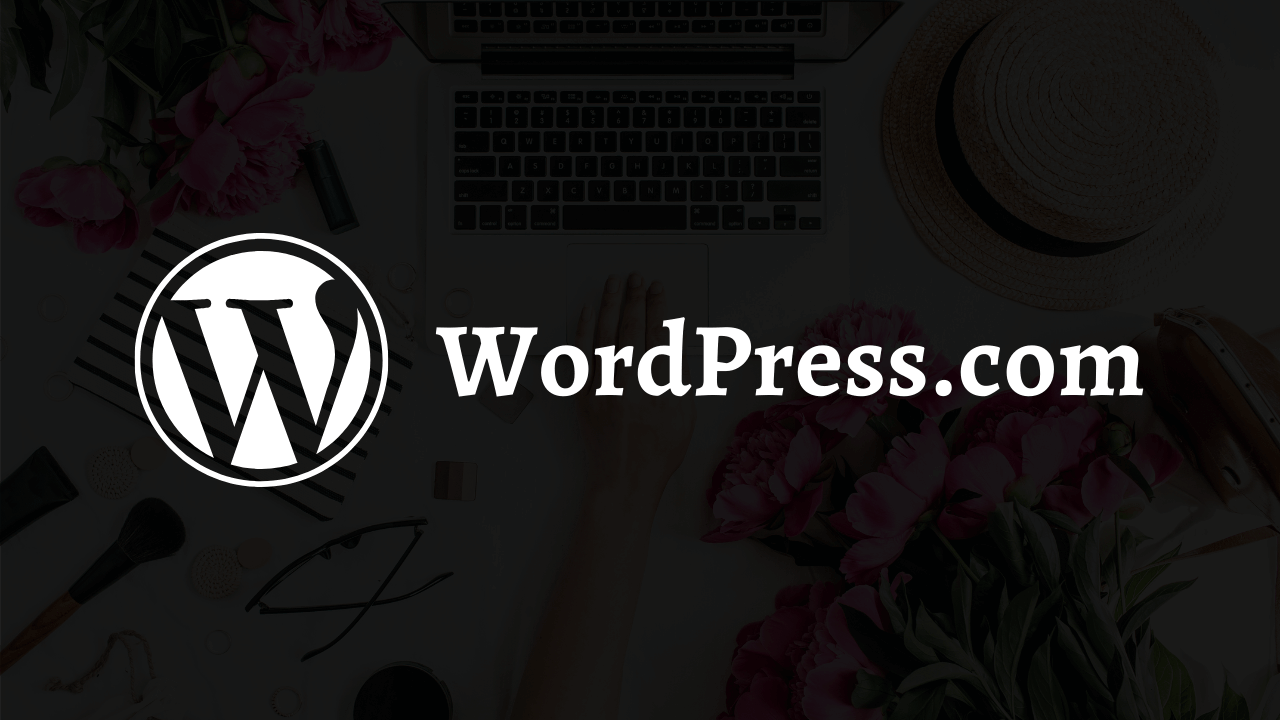 WordPress.com is a blog site hosting service by automatic.
You can create a basic website for free on WordPress.com and You can purchase additional options like a custom domain name, additional storage, and other premium services.
WordPress.com is a good blogging site for users who don't want the advanced features of self-hosted WordPress.
Pros
It's completely free if you are happy with a WordPress.com subdomain. Your free website name looks like this: https://example.wordpress.com.
Easy to setup – Just sign up for an account and follow the setup wizard
No worry about the site maintenance all is done by wordpress.com
Professional and dedicated support on paid plans
Cons
On the free plan, your blog is hosted on a subdomain
Narrow customization options, third-party themes, and plugins are only available on Business plans
Limited monetization opportunities, advertising is forbidden for lower plans, You can't monetize with ad networks like Adsense.
You don't own your blog. You can lose your site if you violate the terms and services of the platform
Ads and branding are present on your site unless you pay to remove them.
Pricing
The Basic WordPress.com plan is free but it will have WordPress.com ads and branding. And WordPress.com paid plans to cost between $4 and $25 per month if billed annually. Each tier increases the amount of storage space, features (including monetization options), and support. With the Business plan, you can install external plugins and themes and connect your site to Google Analytics.
Wix.com
Wix is a popular hosted website platform to start a website. With their drag-and-drop website builder, your can easily create your stunning website without any coding skills. You can also add a blog to your website just by adding the Wix Blog app to your website.
Wix is founded in 2006 as a platform where anyone can create their website without coding skills with their drag-and-drop website builder. Currently, Wix has over 200 million users worldwide.
Pros
No coding skill is required to build a website.
You can customize your website with a lot of templates and third-party apps
Comes with free stock images
Quick and easy setup with top-notch hosting
Cons
The free plan has a lot of limitation like traffic and storage and also have Wix ads and branding on your website.
Limited third-party apps
E-commerce features are limited to paid plans, and even those features are limited
You can't change the template once you choose it
You can't move your website elsewhere with your content.
Pricing
The basic Wix website builder is free. With a free Wix account, you'll get a Wix subdomain that looks like this: https://username.wixsite.com/example.
Wix is a subscription-based platform and offers different packages. They start at $13/month for 2GB of bandwidth and 3GB of storage with the ability to connect a custom domain (which you need to pay yourself).
Higher plans add more bandwidth and storage, free domains, apps, and the ability to create an online store and remove ads. The most expensive plan is $39/month and also comes with VIP support.
Gator By Hostgator
Gator is a website builder blogging platform created by popular web hosting provider Hostgator. Gator offers a drag & drop tool that you can use to build any type of website including blogs, business sites, and even an online store.
Don't confuse Gator website builder and Hostgator web hosting. You can your Hostgator web hosting to start a WordPress blog like Lit Blogging.
And if you want to start a noo-WordPress blogging platform and hosting solution then Gator is the best option.
Pros
Easy drag-and-drop website builder to customize your blog and website.
Backups, performance, and security are all handled by HostGator (no headaches).
Free Domain and hosting with all plans
Can easily add an online store to your blog with just a few clicks.
Backups, performance, and security are all handled by HostGator.
Cons
Gator doesn't have any free plan but they offer a 45-day money-back guarantee.
E-commerce features are restricted to higher plans only.
The limited number of apps and extensions add extra features to your blog and website.
Pricing
Lit Blogging users get 55% off on all Gator builder plans. The Starter plan costs $3.46/month and it comes with all the features you need to start a successful blog including a free domain and SSL certificate.
You just need to make sure to use our Gator Website Builder coupon code: LitBlogging to get 55% off.
Blogger
Blogger is a free blogging service by Google. It is a quick and easy way to create a blog for non-tech-savvy users. You can easily create a blog on Blogger with your existing Google account.
Blogger is one of the oldest blogging platforms it was launched in 1999 by Pyra Labs. Later in 2003 google acquired it.
You just need a Google account to start a blog on Blogger.
Pros
Blogger is free
No issue with getting hosting and no worries about hosting performance because it is managed by Google itself.
Has the added advantage of Google's robust secure platform and reliability.
Comes with tracking and anti-comment spam measures.
Cons
You're limited to basic blogging tools and can't add new features as your blog grows in popularity.
Design options are limited, with fewer templates available. Third-party templates for Blogger are often low quality.
Blogger does not receive frequent updates or new features.
Google can suspend your blog at any time, or even cancel the Blogger service altogether
Pricing.
Blogger is completely free with a Blogger subdomain like https://example.blogspot.com. It only costs you If you want to use a custom domain and you need to buy from a third-party domain registrar.
Medium
Medium is launched in 2012, Medium has grown in the community of writers, journalists, and bloggers. Medium is very easy to blog with some limited social networking features. You can comment on others' blogs and like them (Like is known as clap on medium).
Medium works much like a social networking site where you can create an account and start publishing your articles. After you sign up, you'll have a profile address like this: https://medium.com/@yourname. But you cannot use your domain.
Pros
Medium is very easy to use. No need to set up just create an account on Medium and you are ready to blog.
It allows you to reach an existing online community of people of similar interests.
Completely focused on content no headache of designing
You can embed content from other sites like youtube, Twitter, etc.
Cons
Features are very limited in terms of design or building a brand.
No way to transfer your audience from Medium to any other platform. Medium owns your audience, so losing your blog means losing all your followers.
Medium has control over your content
You cannot run your ads to make money.
You cannot use your domain name. You'll simply get a profile page like any other social networking site ex. https://medium.com/@yourname
Pricing
Medium is a completely free platform to blog.
SquareSpace.com
Squarespace is a simple drag and drops website builder mainly aimed at small business that is looking for an easy way to create a website. It started in 2003 and now it powers millions of websites.
It's a great all-in-one solution for non-technical people and offers hosting, domain registration, and the possibility of e-commerce. It also has blogging capabilities which are the reason why it's among the best blog sites out there.
Pros
Easy to use for beginners who don't have technical knowledge
I have good-looking and responsively designed templates
It separately offers domain names with SSL/HTTPS and eCommerce stores.
Free trial to test drive the platform
24/7 customer support
Cons
Users are limited to the features that Squarespace offers
Integrations are limited to a selected few services and tools.
Slightly overpowered if all you want is a blog
Pricing
Squarespace has different pricing plans for websites and online stores.
Pricing for their website plan starts at $16/month, or $12/month if you pay for the year in advance. For the Business plan, pricing starts at $26/month, or $18/month billed annually. Whereas pricing for online stores starts from $26/month and up to $40/month.
Ghost
Ghost is a minimalist blogging platform with features entirely focused on writing blog posts. The idea was to make a more streamlined and modern version of WordPress. As a consequence, the platform is built on JavaScript. It's also available for a hosted or self-hosted version.
Pros
Focused on blogging and writing.
Written in JavaScript, so it's super fast.
Clean, intuitive, streamlined user interface
The hosted version requires no setup
Integrated function for Accelerated Mobile Pages
SEO and social media capabilities are built-in
Cons
Not easy to customize with apps.
The simplified user interface means options are very limited.
Not enough themes to change the appearance of your site.
Complicated setup if you install it yourself.
Pricing
The price for the hosted version depends on the number of websites and the amount of traffic. Plans are starting from $29/month and in this plan, you will get one blog, and 100,000 monthly page views. This also includes SSL encryption. The most expensive plan is $249/month ($199/month paid annually). Ghost has to provide prioritized support, an uptime guarantee, and other premium features. All plans come with a custom domain.
For a self-hosted version, you need to pay for the domain ($10-15/year) and hosting (Starting from $7.99/month).
But Lit Blogging users will get hosting at just $2.49/month from GreenGeeks with One-year free domain, Free SSL encryption.
Tumblr
Tumblr is a microblogging platform with social networking features including following other blogs, reblogging, built-in sharing tools, and more.
Pros
Tumblr is free with a Tumblr subdomain like https://example.tumblr.com. You can also connect a premium custom domain name.
Easy to set up and use
As a microblogging tool, Tumblr makes it easy to quickly blog videos, GIFs, images, and audio formats.
Has integrated social features such as following, re-blogging, and sharing
Many design opportunities and they are easy to change
Cons
Very limited features and no way to increase them
There are many themes available for Tumblr, but they can't offer additional features.
Pricing
Tumblr is free to use with its subdomain but  You can use a custom domain (purchased separately) for your Tumblr blog, and there are also third-party themes and apps available for Tumblr to purchase.
Weebly
Weebly is a website builder with a modular approach and a web-based interface. Pick a template and position your content as blocks in different areas.
Pros
Easy to use – everything is operated via drag-and-drop
You can try out the service before committing financially
Has a good reputation in terms of SEO, and even integrates with Google Analytics
Comes with decent mobile apps to run your site on the go
Cons
Integrates with only a few third-party platforms
Limited integrated features and no possibility to add more
Exporting sites is difficult
Pricing
You can start with a free account. After that, $6/month gets you a custom domain. For advanced features like site stats, video backgrounds, or membership options, you need to go for one of the higher plans. Those come in at $12-$26/month. Weebly also has separate plans for online stores that are slightly more pricey. All plans are paid annually.
Constant Contact Website Builder
Constant Contact Website Builder is an intelligent A.I.-powered website builder that allows you to create a free blog, business website, and even an online store within minutes.
You can start with their large template collection and customize your website design using an easy-to-use drag-and-drop interface. You also get access to other helpful tools such as a custom logo maker, a professional stock photo library of over 550,000 images, an online store, and a whole lot more.
Pros
Easy-to-use drag-and-drop website builder.
Quick and easy setup, since Constant Contact will host your website for you.
A free SSL certificate is included with all paid plans.
The free 60-day trial allows you to try out the service and even build an online store before buying.
Cons
The developer ecosystem is small, so there aren't as many third-party plugins as WordPress.
Limited integration with third-party platforms.
Exporting your site from the Constant Contact website builder to another platform is difficult.
Pricing
The Constant Contact website builder offers a generous 60-day free trial that allows you to create a blog, business website, logo, and even an online eCommerce store.
You can upgrade to the Website Builder plan for $10 per month which gives you access to a custom domain name, free SSL certificate, and other powerful platform features along with 24/7 phone-based support which is a big plus considering most other website builders don't offer phone support.
If you're a small business that doesn't want to use WordPress, then Constant Contact is the next best choice considering everything you get for the price.
LinkedIn
Mainly everyone knows LinkedIn as a job posting site. But linked In allows you to write blogs as well. You can start writing just after creating your profile on LinkedIn.com.
Pros
No need to set up just create your profile and start writing
Very focused and large audience available
Easy to get exposure because for larger no. of active business
Con
No option to use any custom domain
Limited features you can't extra features in it
No Option to export your blog article
Pricing
Linkedin is a completely free platform you not need to pay a single penny to start a blog there
Joomla.
Joomla is often compared to WordPress, as it is also an open-source content management system. It is a self-hosted blogging platform. What that means is that you will need to arrange a domain name and web hosting for your blog.
Their site says that they are "trusted by millions". The limited figures available suggest that it is the second most widely used content management system for bloggers, behind WordPress. Joomla has been downloaded 88 million times since being launched in 2005.
This is a highly versatile system as you can use it to create all manner of different blogs or websites. There are many varied templates that you can use to design your blog with Joomla.
Besides, you can also add extensions that give you access to more useful features. However, it should be noted that there are far fewer options with this platform than with WordPress.
Another potential drawback for bloggers is that it can be tricky to get support. In most cases, you will have to rely on reaching out to the community of users to find solutions to any problems that run into.
If you aren't technically minded or experienced in running a website then you may worry about feeling as though you are out on a limb. The platform is generally easy to use but you could struggle if you run into any problems.
Besides, you will only want to use Joomla if you are comfortable managing your security issues, updates, and backups. The platform itself is free but you will need to pay for a domain and hosting if you are going to run your blog using this service.
Pros
Free to use
Highly versatile
Cons
Need to arrange our own domain and hosting
Can be difficult to find support.
Pricing
Joomla is free CMS just like wordpress.org you just need to invest in a domain and hosting that will cost you around $10-$15/year for the domain and $7.99/month for hosting.
But Lit Blogging users will get hosting at just $2.49/month with a free domain for one year. From GreenGeeks web hosting.
So which blog site is truly best for you?
I believe that wordpress.org is the best blogging platform for all types of websites. It is easy to use, it's free, and you can add all features that you want to your website with the help of WordPress plugins and you can design your blog with different types of WordPress themes.
To help you start your WordPress site, we have created a complete guide on how to start a blog.
Conclusion
I shared all the best blogging platforms available right now. There are many other blogging platforms available on the internet but I didn't add them to this list because according to me they are still not that helpful to create a blog website.
Now you can choose the best blogging platform for you according to your requirements. If you find something helpful in this article don't forget to share it on social media and also remember to share who is searching for the best blogging platform to start a blog.